You are probably familiar with the distinctive flavor of tuna and how in handy it comes when you are lacking time and want to prepare something on the go.
We all know that consuming fish is healthy and that we should eat it at least twice a week. The tuna fish is not an exception as it offers many health benefits when we include it in our diet. This fish is a powerhouse of essential nutrients such as omega-3 fatty acids, potassium, magnesium, iron, vitamin A, B6 and B12, and as such it has a positive impact on our heart, immune system, bones, eyesight and even on depression and anxiety.
The canned tuna is not only healthy but it is also one of the few healthy products you can buy in bulk when going to the store, as it can be used in a wide variety of dishes (examples of which you can find below) and you don't have to worry about its expiration date (unopened canned tuna has a recommended shelf-life of up to four years).
However, going through the dozens tuna options in the store can be an overwhelming experience. You can find tuna in olive oil, tuna in water, chunk light tuna, yellowfin tuna ― the list goes on and on. So, which one should you look for when you are hunting for the perfect canned tuna in the grocery store? To figure this out, let's have a look at the different types of canned tuna and how the registered dietitian, Vanessa Rissetto, described each.
Review of different types of tuna by expert Vanessa Rissetto
Chunk light tuna: "This is typically from yellowfin tuna or skipjack, meaning it's lower in calories and fat and therefore lower in omegas and lower in mercury," Rissetto said.
Solid/albacore tuna: Rissetto said this type of tuna tends to be higher in calories and lower in protein and B12, and higher in mercury. "It has a mild flavor," she added.
Yellowfin: Also referred to as ahi tuna, yellowfin tuna is higher in mercury than albacore or skipjack. It's also high in omega-3 fatty acids.
Skipjack: "Skipjack is the species most commonly used in canned tuna. It is mainly sold as 'canned light' or 'chunk light' tuna, and it is also available fresh and frozen. It's high in omega-3s, too."
Packed in water: "There's no added salt or calories here, which should be taken into consideration," Rissetto said.
Packed in water, salt added: Rissetto said that some people like this for flavor. "But if you're having blood pressure issues, then you would want to pay attention to the sodium content."
Packed in olive oil: While this can be a flavorful option with some additional healthy fats, Rissetto said to be careful what you mix it with. "Because of the fat, you wouldn't want to add mayo," she explained.
Now, when you can make an informed decision on which type of tuna you choose to consume, based on your personal dietary needs, let us help you integrate the product in your diet with 5 incredibly delicious Subway Tuna recipes.
If you are a beginner in the kitchen there is nothing to worry about, all five recipes are explained in detail and we promise you will nail them! What is more, the recipes are listed by difficulty, so after trying all of them you can be sure that you have upgraded your chef skills!
Traditional Subway Tuna Sandwich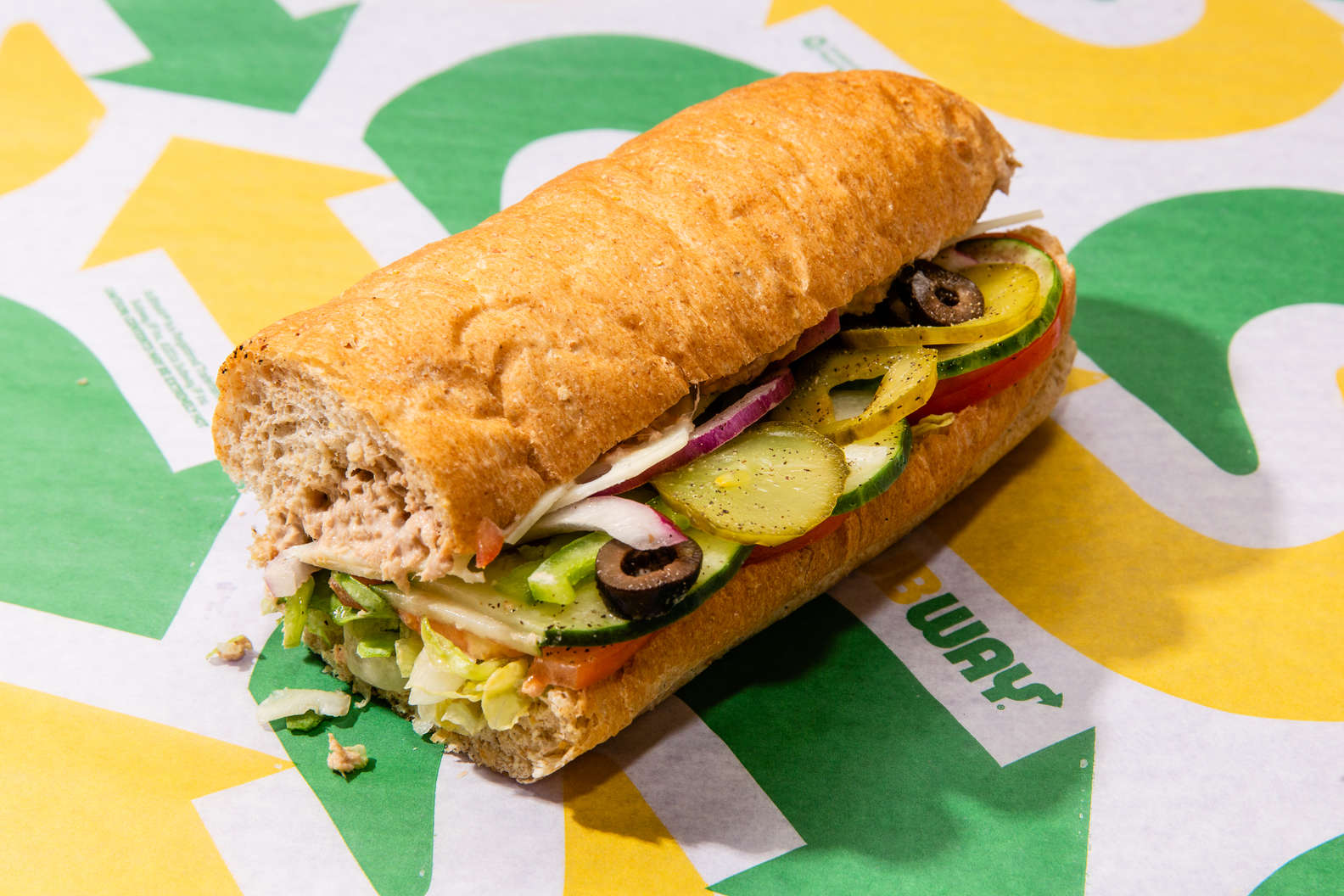 People use tuna for a variety of dishes, however over one half of the consumed canned tuna, 52 percent, is used in sandwiches. Another 22 percent is used in salads while 15.5 percent is used in casseroles and helpers and 7.5 percent is used in base dishes (National Fisheries Institute, 2020). Therefore, it shouldn't surprise you that our first pick is the Subway Tuna Sandwich.
Over the years, Subway significantly changed the game of sandwiches. The combination of their crispy, freshly baked bread, tuna, vegetables and whatever extra filling you would like to add, makes the otherwise simple dish a very healthy and delicious meal. It is super easy, you can have it for breakfast, lunch or dinner and the best part is – you probably already have all the ingredients in the fridge! Let's start off with the easiest, traditional Subway sandwich recipe that suits every taste:
Preparation time: 5min
Ingredients:
170gr can of tuna in water
1/3 cup vegetable mayonnaise.
¼ teaspoon of salt.
2 teaspoons of lemon juice.
½ a cup of shredded lettuce
4 Tomato slices
2 red onion rings
2 slices of cheese.• Extra filings (optional) – cucumber slices, green pepper slices, black olives, and jalapeno slices.
Directions:
Wash hands properly before you start to cook.
Combine tuna, mayonnaise, lemon juice and salt to create a good mixture.
Start assembling your sandwich by placing ½ a cup of shredded lettuce on your bread followed by 4 tomato slices and red onion rings to suit your taste.
Add 3 scoops of your homemade tuna filling and top with 2 slices of cheese.
Finish off your sandwich with the top of your roll and enjoy!
Subway Tuna Sandwich
In order to upgrade your cooking skills, you should always strive for more and more complex recipes. Therefore, in case you find the Traditional Subway Tuna Sandwich too basic, we are here to challenge you a bit more with the second Subway Tuna Sandwich. It contains more ingredients and a bit more complicated steps, but we promise – the work will pay off as the end result will make you fall in love with tuna (thank us later)!
Preparation time: 10 minutes.
Cook time: 10 minutes.
Ingredients:
170gr can of tuna in water (if you only have cans with olive oil that's also fine, just reduce the mayo)
Ciabatta roll
2 eggs
3 slices mozzarella (If you don't have any mozzarella or don't like this cheese, use Pepper Jack, Cheddar, Gruyère, American, or Edam.)
Lettuce leaves
2 tablespoon lemon juice
¼ cup mayonnaise
1 tomato
1 avocado, diced
1 tablespoon of vegetable oil
salt and pepper to taste
Directions:
Stir the tuna until the chunks are broken up into a fine-textured paste. Add the mayo, lemon juice, salt and pepper and use a spoon to mix everything together (if you prefer your tuna to be a smooth consistency then process the ingredients in a blender for a few seconds). Gently stir in the avocado then set aside.
Heat a skillet on medium heat then add a splash of vegetable oil. Crack both eggs into the skillet and cook until you're happy with the texture. If you have an egg ring it will help keep the egg in a neat circle. Once cooked, set aside.
Cut the ciabatta lengthwise, without splitting the halves, top it with the mozzarella (to get delicious melted cheese in your sandwich), pop it into the oven and broil (grill) until toasted. Remove the bread and place it on a suitable plate.
Scoop the tuna mix onto the bun and then top with the eggs, lettuce and the tomato.
Enjoy!
Subway Tuna Salad
Light meals like salads—which are often ordered and bought from restaurants like Subway when you're on the go—can also be prepared from the comfort of your home. One such example is the healthy Subway salad, full of vegetables, tuna fish and drizzled with mayonnaise. The mayonnaise can also be replaced with healthier alternatives such as mashed avocado and a squeeze of a lemon juice. Many are curious as to how Subway's tuna salad tastes so darn wonderful and are seeking to know how to prepare at home. So, we'll be looking at a recipe for tuna salad, and not just any but the original Subway Tuna Salad.
Serving size: 6 people
Prep time: 10 min
Ingredients:
2 cans of light chunk tuna (in water or oil, drained)
4 lettuce leaves (torn)
2 tomatoes
½ red onion
¼ teaspoon of salt
1½ tablespoons of mayonnaise
1 cucumber
1-2 fresh green bell peppers
1½ tablespoons pickle relish
A teaspoon of Dijon mustard
Directions:
Assemble all the vegetables. Wash the onion, lettuce, tomato, cucumber, and green pepper thoroughly before you slice them. Slice all of the vegetables and combine them in a salad bowl with the already torn lettuce leaves. Set aside for later.
Next is the draining of the tuna from the can. Open the can with the aid of a can opener and pour drained content into the mixing bowl. Now, add the pickle relish and mayonnaise and mix together with a spoon or spatula.
Stir vigorously for about 3 to 4 minutes until all the chunks are completely broken down. If you have some time on your hands, you should try using a blender or a food processor to completely blend. Doing so will leave you with a thick and creamy paste that tastes like tuna. Scoop your tuna mixture into the veggie salad.
Your subway tuna salad is ready! Voilà
Healthy Tuna Salad Recipe (No Mayo Tuna Salad)
Our next proposal – a healthy tuna salad recipe, is made with no mayonnaise, but it's still full of flavor. It's dairy free, paleo friendly and, again, super easy to make. The healthy tuna salad recipe is a great option of those who are quite health conscious.
Serving size: 4 people
Prep time: 10 min
Ingredients:
1 can tuna, drained
1/4 cup sliced onion
1/2 red bell pepper, diced (about 1/4 cup)
2 stalks celery, thinly sliced
1/4 cup chopped fresh parsley or cilantro
Juice of 1 lemon (2–3 tablespoons)
1 tablespoon Dijon mustard
1/4 cup chopped fresh parsley or cilantro
1/4 teaspoon coarse salt
Black pepper, to taste
1/4 cup olive oil
Directions:
In a large bowl, break down the tuna with a fork.
Add the carrot, celery, onion and bell pepper.
In a smaller bowl, mix together olive oil, lemon juice, Dijon mustard and parsley. Pour dressing into salad and stir to combine.
Adjust seasoning with salt and pepper to taste
Healthy Subway Tuna Wrap
There is one more tasty product with tuna in the Subway menu – the wrap. To provoke your creativity and health consciousness, the next recipe is a healthier interpretation of the original Subway wrap. The Greek yogurt makes this tuna mixture just as creamy as the classic mayo would, but without all the extra fat and cholesterol! If you would like to achieve the authentic taste of the original Subway wrap, just use mayonnaise instead of the Greek yogurt.
Ingredients:
1 whole-wheat wrap (or tortilla)
Half tuna can (water-packed canned, drained)
1/4 cup Greek yogurt (nonfat, plain)
1/2 stalk celery (diced)
1/4 red bell pepper
1 tomato
2 lettuce leaves (torn)
Directions:
Drain the water from the half can tuna and transfer to a medium bowl.
Chop the 1/2 rib of celery and 1/4 red bell pepper into a fine dice and add to the bowl with the tuna.
Add the 1/4 cup Greek yogurt to the bowl with the tuna, celery, and red pepper.
Place the whole-wheat wrap or tortilla on a clean surface.
Visually, think of dividing your wrap into 3 even strips. Place the lettuce in the middle strip, avoiding the edges.
Load the tuna-salad mixture on top of the lettuce. Add the tomato on top.
To make a closed wrap, fold up the bottom edge about 1 inch. Fold the left edge over, followed by the right edge. Then roll away from you until the filling is completely encased. Alternatively, you could roll the entire wrap from one direction and leave the ends open. Enjoy the healthy, delightful wrap!
Conclusion
Every subway tuna recipe is so simple and easy to prepare that you can prepare it even if you are a newbie in the kitchen. If you have followed all the recipes above, then – Congrats! You've not only discovered the beauty of tuna, but you've also upgraded your chef skills! From now on, you will always have an action plan when you want to prepare something delicious on the go.