You may be working from home, but that doesn't mean business stops. You may have video meetings on the calendar and not be motivated to don't want to fully get ready. You need to find ways to empower yourself – make yourself feel and look fabulous, but also build your self-confidence and give you self-belief.
Sometimes, the simplest of things can boost your confidence – a makeover being one of them. Updating your wardrobe, or coming up with some killer outfits for your next job interview or date night will make you feel amazing, another thing you can do is update your hair!
That doesn't mean you have to splash out on a brand new hair cut – although we love to treat ourselves once in a while. From products you picked up to good old fashioned Aloe Vera gel, You can easily work with what you've got and create some flawless easy hairstyles that will make you look and feel like a boss! These hairstyles will have you feeling empowered and sophisticated, and will have you looking like you mean business!
Slicked Back Ponytail
If anything screams smart and sexy, it's the slicked back ponytail. Straighten your hair from the roots to the ends by working in layers for a poker straight look, and then smoothen out any bumps using your brush and gel before slicking your hair up into a glamorous high ponytail. Wrap your hair around the hair tie to disguise it and make it look even more chic, and add bobby pins to lock it all into place. This look is perfect for a sophisticated event or for the boardroom with your edgiest suit!
The Cropped Bob With Bangs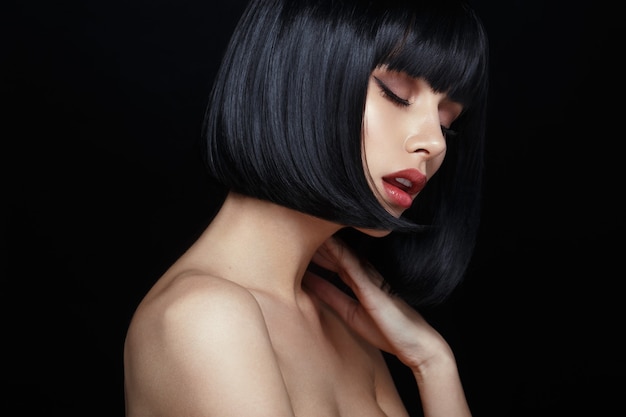 Bangs are a daunting decision to make, but you will not regret the change! Curl your cropped bob for a preppy look, and the bangs will make it even more feminine. This is a Parisian chic look that you won't grow tired of. It's an effortlessly chic look that will make you feel empowered and ready to face the day! We are obsessed with this look! Opt for a casual, messier vibe to contrast with your dressy look, and use dry shampoo to mess it up.
Androgynous Vibes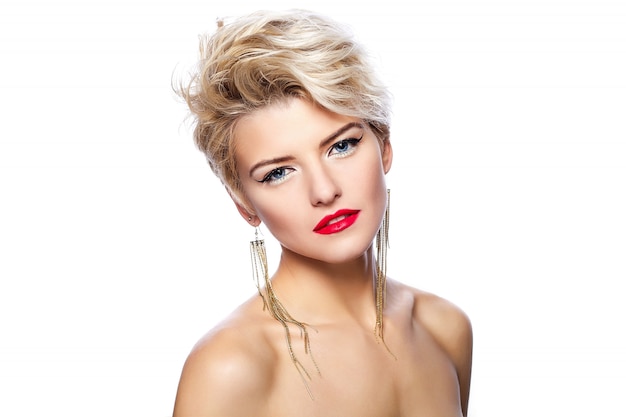 If you have short hair, you can look like a Girlboss! A tomboyish vibe to your look is empowering, edgy and unique – you will turn heads wherever you may be! The side sweep is elegant, smart and adds a feminine touch to an androgynous hair style. Work a little volume to the back to give your hair a little oomph. Slick your fringe to the side and work on a bold lip for a daring statement look!
Tousled Waves
Tousled waves aren't just perfect for the beach – you can steer clear of the surfer babe look and look feminine with romantic vibes in the office. It has bohemian vibes but still looks badass and can take you from desk to dinner. It works even better on second day hair for a messier look, it'll lock in those picture-perfect waves and give a rock'n'roll touch. Keep makeup to a minimum and add a touch of nude lipstick for a natural beauty vibe.
Low Bun
Bored of the top knot? You will love the low bun, adopted by fashionistas past and present. It is a sophisticated look that involves your hair being slicked back into a low bun with a few wispy strands to frame your face in an elegant fashion. Curl these strands with a wand for a messy finish. Throw on your favorite pair of sunglasses for a dramatic street style look. Then work a men's work shirt with a fluid pair of trousers for a masculine-meets-feminine finish. You can even wrap a silk scarf round your low bun to ooze even more elegance.
Shoulder Length Bob
A shoulder-length blunt bob is another feminine and smart hair style to incorporate into your repertoire of looks. Opt for a super sleek look by straightening your locks, this style looks incredible with balayage or ombré hair as it really highlights the different tones in your hair. It looks professional, put-together and extremely suave. For those wanting to slowly but surely change their hair routine, this is way to do it!
Loose Plaits
Fashionistas all over enjoy rocking the loose plait look. Not only are they trending on Instagram, but they are an effortless and timeless look that adds a casual touch to your dressiest of looks. The look will turn heads in the office and out of it, and even plait novices can accomplish this relaxed yet feminine look. If your whole vibe is boho chic, you just have to try out this hairstyle! Sleep in your loose plaits overnight for an even more relaxed and messy look. Team it with a smokey eye for a bold finish!
Fishtail Braids
If you're ready to challenge yourself, fishtail braids are the way to go. You can go as subtle or as dramatic as you want – though we do have a soft spot for a subtle fishtail braid. Start towards the middle of your hair and do not braid starting from the roots for this subtle, romantic effect. Tug to separate the braid and give it a relaxed touch. Opt for a braid balm that will lock and secure those impressive fishtail braids!
Natural Hair
Embrace your natural hair and let it roam free. There is something so empowering about rocking your natural hair and letting it be the star of the show. Play with its texture, and give it a bit of oomph with texturizing mousse. Don't hide away those beautiful curls and instead let them shine! Add hair oil to nourish your hair, and add coconut oil to the ends to hydrate them and prevent breakage! People will be envious of your badass hair, and will be asking what your secret is!